You can find us at:
Zion Lutheran Church
902 4th St.
La Grande, OR 97850
(Northwest corner of 4th and I)
View Map

(541) 963-5998
Office Hours:
Mon., Tues., Thurs., Fri. 8:30 AM - 11:30 AM
Worship: 9:00 AM Sunday Morning
Sunday School: September-June
Fellowship & Adult Forum: As scheduled following worship
Zion Clergy search underway with St. Peter's Episcopal Church, La Grande
Office: office@ZionLaGrande.org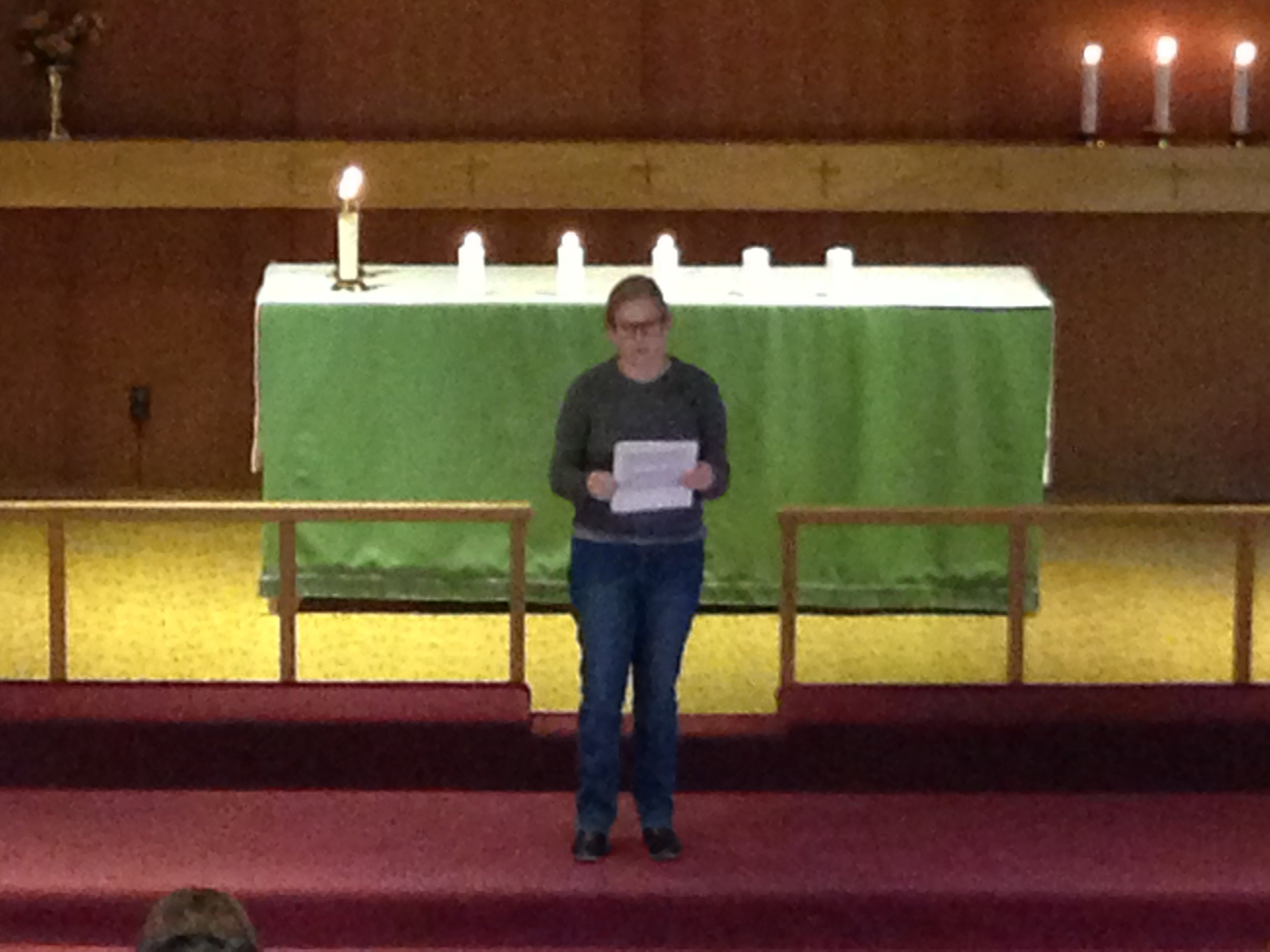 Our Ecumenical journey continues. In this worship we commit ourselves to grow in communion. The five imperatives will guide us
Our Lady of the Valley and Zion Lutheran Church join in the Lutheran-Catholic Common Commemoration of the Reformation in 2017
Thanks be to you, O God, for the many guiding theological and spiritual insights that we have all received through the Reformation. Thanks be to you for the good transformations and reforms that were set in motion by the Reformation or by struggling with its challenges. Thanks be to you for the proclamation of the gospel that occurred during the Reformation and that since then has strengthened countless people to live lives of faith in Jesus Christ.
Pastor Nelson's thoughts about
PARTNERSHIPS
As I think about the next few months, the word partnership comes to mind. I looked up the definition. It is an arrangement where parties agree to cooperate to advance their mutual interests. Organizations may partner to increase the likelihood of each achieving their mission and to amplify their reach.
FAMILY PARTNERSHIPS... My family came together this summer to celebrate the marriage of my son. He is entering into a lifelong partnership. The word partner is used in Genesis. "It is not good for the man to be alone; I will make him a helper as his partner." Of course, as the story goes, nothing in the animal world was suitable as a partner, so God created another human being. While the tradition has often focused on the world "helper," the modern world focuses on the word "partner."
It is my fervent prayer that my son and his wife have as their mutual interest to be there for each other and to help each other through life, and that there will be a mutuality in their partnership that will give them many moments of joy. I strongly believe that if there is no mutuality, the partnership is not likely to be successful.
CONGREGATIONAL PARTNERSHIPS... I suppose that I could take this image of marriage and apply it to our new partnership with St. Peter's, although we are only in the beginnings of the courtship stage right now. Nevertheless, we are working toward a cooperative agreement, and we are defining our mutual interests. For me, one of our major strengths is that we come together as equals. There's that focus on mutuality, again. If we don't have the best interests of each other at heart, we will be disappointed in the result of our labor.
I like the idea from the definition above of organizations partnering to increase the likelihood of achieving their mission and amplifying their reach. The apostle Paul had traveling companions and partners when he went on his missionary journeys to found churches. He relied on them. Earlier, Jesus had sent his disciples out two by two to spread the gospel, heal and teach. We're in good company when we join together for the sake of our mission. I firmly believe that we can do more together than we can separately as congregations when we focus on partnering in order to amplify the reach of the good news we have to share with the people who live all around us.
COMMUNITY PARTNERSHIPS... Of course, I can't forget to celebrate the wonderful community partnerships we have developed over the past two years through the housing collaborative. God has called us out of our building to work with organizations and entities that we have never partnered with before but who have the mutual interest of stabilizing people's lives so they can experience God's abundance.
Partnerships. They're a gift to celebrate. Pastor Colleen
Welcome!
Zion Lutheran Church is located in La Grande, a beautiful city situated in Union County in the Blue Mountains of Eastern Oregon. We are a congregation of the Evangelical Lutheran Church in America (ELCA) and are part of the Oregon Synod. Zion is a teaching, learning, caring community of Christians walking the Way of Jesus in the world. Browse our website to learn more about us and the opportunities to grow in your faith with opportunities for you to put that faith into action!
Zion Lutheran Church Welcomes You!
It is our desire to be God's messengers of grace – serving our community, our nation and our world. We find assurance in God's love for us all. We are an intentionally inclusive congregation welcoming people of every race, gender, nationality, sexual orientation, age and ability into all aspects of our church life. All are welcome here.
ZION HOSTS WORLD COMMUNION SUNDAY, OCTOBER 6, 2019, 10:00 AM
Fourth Street Churches hold ecumenical service at Zion Lutheran with United Methodist, First Christian, St. Peter's Episcopal and First Presbyterian. Join us for fellowship time following the service.
ZION Calls Pastor Roberta Smythe!
Greetings from Pastor Roberta,
Hopefully by the time you read this, I will officially be your new pastor. We've been working on all the paperwork necessary to make that happen. In the mean time, I've been serving as your "supply" pastor since August 11, preaching and leading worship with both Zion and St. Peters. I've also been back and forth to Libby, Montana every other week to finish packing and getting my house there ready for sale. It looks like I'll be able to move in to St. Peter's rectory around the middle of September.
A little about myself: I was raised in the Portland area, eventually graduating from Oregon City High School. I then moved to Eugene to attend the University of Oregon. After graduating from the University, I stayed in Eugene, where I lived and worked for over 20 years before being called to ministry. While in Eugene, I worked for the Eugene Symphony and for the University Theatre, as business manager at each place. I later worked for an economic consulting firm as an administrative assistant.
Although I have been active in church most of my life, it wasn't until 2004 that I felt the call to the ministry. I started my theological education at Northwest House in Salem, later transferring to Pacific Lutheran Theological Seminary in Berkeley to complete my Masters of Divinity. I did my internship at Holy Cross in Salem.
My first call was to the Galata Lutheran Parish in north central Montana. There I served three small congregations, which involved a 65-mile trip each Sunday to serve all three churches. My second call was to Christ Lutheran in Libby Montana, where I served until this past May. Serving Zion and St. Peters will be my third call.
I still have family in the Portland area. My brother and his family live in Tigard and my dad lives in Beaverton. I also have an uncle and an aunt on my dad's side in northern Washington, and an uncle on my mom's side back in North Carolina.
I'm also an amateur photographer, taking mainly photos of nature: scenics, wildlife, flowers, etc. As such, I like to hike, drive, and travel to find potential subjects.
I am looking forward to serving as your pastor, getting to know you, and living amongst you in the beautiful Grande Ronde Valley.
Pastor Roberta
"
Pastor Colleen Nelson Retirement Celebration!
We at Zion Lutheran Church echo the words of Reverand Susan Kintner - our Pastor Colleen Nelson is gifted. Her time with us has been a blessing
"Willing people, gifted pastor," says Reverand Susan Kintner, Acting Bishop, Oregon Synod ELCA about Pastor Colleen Nelson of Zion Lutheran Church
Our Lady of the Valley and Zion Lutheran made these Five Commitments During worship together on 11-12-17
Reformation 500th Anniversary Celebration ~ Festival Worship Service
Sunday, October 29th, 10:00 am ~ pews full with overflow seating in the rear and balcony! Special organ, choir and instrumental music followed by Luncheon Potluck
To prepare for our big day on the 29th, the Sunday Morning adult forum watched and discussed selections from this new movie.
Martin Luther: The Idea
That Changed the World
Martin Luther chronicles the real-life story of the seismic upheaval that rocked the western world in the early 1500s. Against all odds, a lonely outcast stood up to the world's dominant superpower—the Catholic Church—and won. It was a battle of ideas that formed Western society as we know it today, sparking the rise of individualism, universal education, religious freedom and new roles for church and state.
Narrated by Hugh Bonneville (Downton Abbey) and starring Padraic Delaney (The Tudors), this highly-visual docudrama uses full-scale dramatizations to tell a great adventure story. With treacherous intrigue, outsized personalities and famous showdowns, it does not shy away from the darker side of Martin Luther's story." (PBS International)
housing matters union county Phase 2
It's exciting to report that 14 organizations and agencies have moved into Phase 2 signing on to continue the work of finding creative solutions to the issue of safe affordable housing for low-income residents of Union County. people meet monthly in a strategic planning process facilitated by Lisa Ladendorff of NEON (Northeast Oregon Network). We have identified assets and gaps, outlined goals based on this information, and created action plans to move forward.
For more information talk to Ruth Zemke and Lyle Nelson of Zion Lutheran Church who serve faithfully on this Collaborative. Please pray for our work and the people of all ages who have no place to call home…
THANKS to Union County LGBTQ Community Group for hosting A Spring Computer Workshop for members and staff of ZION Lutheran Church. For more information about regular Union County LGBTQ Community Group monthly meetings contact the Zion office